Recipes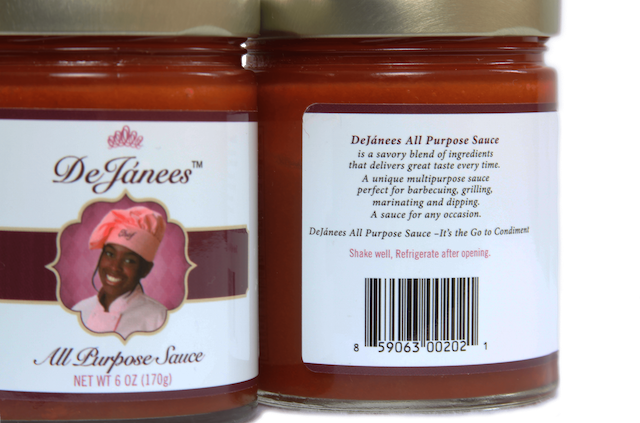 DeJánees
®

All Purpose Sauce Pulled Chicken Sliders
Ingredients
1 cup of DeJánees All Purpose Sauce
2 cups shredded skinless boneless rotisserie chicken breast
8 (1.3 ounce) sliders mini buns
8 bread and butter pickle chips
Directions
Pour 1 cup of DeJánees All Purpose Sauce in a small saucepan over medium heat. Stir occasionally for 3 minutes.
Add chicken to DeJánees All Purpose Sauce stir to combine. Cook 2 minutes or until chicken is thoroughly heated.
Spoon 3 tablespoons chicken mixture on bottom half of each bun: top each with 1 pickle chip and top half of bun.
Enjoy!  Yields 4 Servings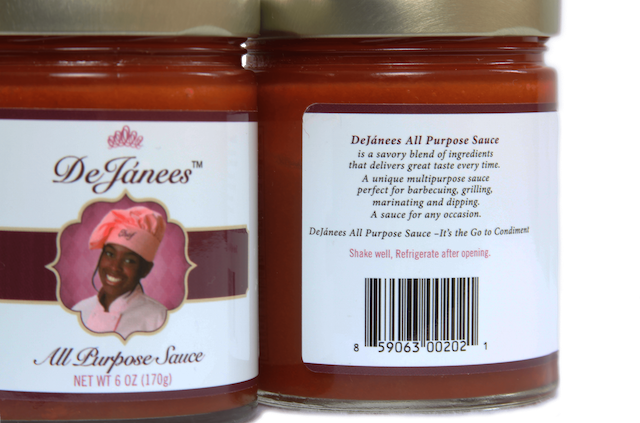 DeJánees
®

All Purpose Sauce Grilled Turkey Burgers
Ingredients
1(12 ounce) bottle of DeJánees All Purpose Sauce
1 (28 ounce) pack of lean ground turkey
1 pack of Lipton Onion soup mix
½ teaspoon of black ground pepper
1 pack of Hamburger Buns
Directions
In a medium bowl combine ground turkey, onion-mix, and black pepper well.
Shape meat mixture into eight ¼-inch thick patties.
For a charcoal grill, place patties on the grill rack directly over medium coals.  Grill, uncovered 12 to 16 minutes or until done (160° F), turning once half way through grilling.  (For gas grill, preheat grill. Reduce heat to medium.  Place patties on grill rack over heat.  Cover and grill as above.)
To serve place turkey burger on bottom half of bun and pure desired DeJánees All Purpose Sauce on top of burger.  Yields 4 servings
DeJánees
®

All Purpose Sauce Smoked Beef Brisket
Ingredients
5 (12 ounce) bottles of DeJánees All Purpose Sauce
2 quarts of water
½ cup beef stock base
½ tbsp. garlic powder
¼ cup Kahlúa
2 tbsp. blackstrap molasses
2 tbsp. yellow mustard
½ tbsp. liquid smoke
½ tbsp. olive oil
1 tsp. coarsely ground black pepper
½ tsp. crushed red pepper flakes
2 sticks or (1) cup of butter
Beef
1 large (8-12lbs) whole beef brisket
1 tbsp. fresh garlic, minced
½ cup Rib Rub
Rib Rub
1 cup Kosher salt
2 tbsp. paprika
1 tbsp. garlic powder
1 tsp. onion powder
1 tbsp. thyme
1 tbsp. ground cumin
1 tsp. oregano or sweet marjoram
1 tbsp. coarsely cracked black pepper
Combine all ingredients for sauce in a stockpot and mix well simmer for 20 minutes, stirring occasionally.
Directions
To make Rib Rub, combine all ingredients and store in an airtight container. Use enough of the Rib Rub to coast the brisket; save the remainder.
After 4 hours, begin applying sauce every hour. After 8 hours, briskets should be almost black. This blend of smoke, Rib Rub and sauce forms a crunchy exterior called "bark."
For a more tastier and tender brisket, wrap each brisket in a double layer of aluminum foil and pour 2 cups of sauce over brisket. Seal foil tightly and return to grill at 200 degrees F for another 3 hours.
Remove briskets from aluminum foil and allow it to cool approximately 30 minutes. Once brisket has cooled, wrap it in tightly with plastic wrap and refrigerate overnight.
On the following day, smoke again over indirect heat at 225 to 235 degrees F for 2 to 3 hours. Allow it to stand approximately 15 minutes before slicing. Slice prior to serving to preserve juiciness. Yields 10-16 servings
DeJánees
®

All Purpose Sauce Skillet Chicken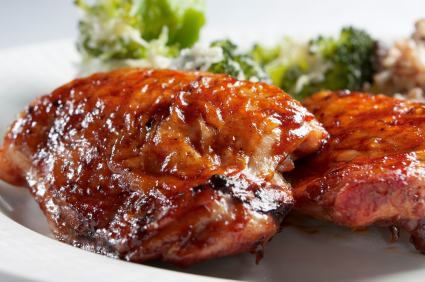 Ingredients
4 (6-ounce) chicken breast halves
½ cup of of DeJánees All Purpose Sauce
3 garlic cloves minced
1 tablespoon of Mrs. Dash Salt-Free seasoning blend
¼ teaspoon kosher salt
1 tablespoon olive oil
¼ cup water
Directions
Place chicken between 2 sheets of plastic wrap; pound to ½ inch thickness using a meat mallet or small heavy skillet. Rub garlic over chicken, and sprinkle evenly with seasoning blend and salt.
Heat oil in a large nonstick skillet over medium-heat. Add chicken; cook 3 to 4 minutes on each side. Add DEJÁNEES All Purpose Sauce and water, scraping pan to loosen browned bits; cook 1 to 2 minutes or until chicken is done. Yields 4 servings
DeJánees
®

All Purpose Sauce Beef Short Ribs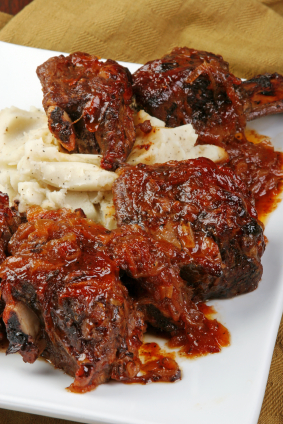 Ingredients
3 tbsp kosher salt
½ tsp ground cumin
¼ tsp cayenne pepper
½ tsp garlic powder
½ tsp onion powder
½ tsp black pepper
½ tsp paprika
Place the above ingredients in a Ziploc bag mix well.
Directions
Wash ribs. Place Ribs inside aluminum pan.
Cover the Ribs in White Vinegar (for a few hours or overnight, your choice) 3.Remove Ribs from pan and pat dry.
Rub the Short Ribs with seasoning mixture.
Wipe grates with oil to prevent sticking.
Place a drip pan under the grates of the barbecue.
Temperature should be set on high.
When grates are hot, place ribs over drip pan, cover and reduce heat to low.
Baste the Ribs while cooking with DeJánees All Purpose Sauce.
Baste once 20 minutes before Ribs are done.
DeJánees
®

All Purpose Sauce Bacon-Wrapped Shrimp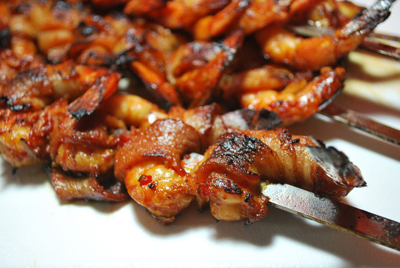 Ingredients
1(12 ounce) bottle of DeJánees All Purpose Sauce
18 fresh or frozen jumbo shrimp in shells (1 ½ to 1 ¾ pounds total)
1 to 2 lemons
lemon wedges (optional)
1 tbsp of garlic powder
1 tbsp of Mrs. Dash Seasoning blend
2 tbsp of Holland House Vermouth cooking wine
9 slices of Oscar Meyer Turkey Bacon, halved crosswise
wood or metal skewers
Directions
Thaw shrimp, if frozen. Peel and devein shrimp, leaving tails intact (if desired). Rinse shrimp; pat dry with paper towels.
Cut lemon in half squeeze lemon juice and Vermouth over shrimp
Season shrimp with garlic powder and Mrs. Dash Seasoning. Toss gently in a zip lock plastic bag. Marinate in the refrigerator for 30 to 60 minutes.
Meanwhile, in a large skillet, cook bacon over medium heat about 4 minutes, or until lightly brown but not fully cooked. Drain bacon on paper towels.
To assemble, wrap one bacon piece around a shrimp and thread the shrimp onto a 6- inch wooden or metal skewer, pushing the skewer through both the bacon-wrapped portion and the head end to keep the shrimp from falling off. Repeat with the remaining shrimp and bacon.
Gently brush DeJánees All Purpose Sauce over bacon-wrapped shrimp to give it a succulent flavor.
For a charcoal grill, place shrimp skewers on the rack of an uncovered grill and grill directly over medium coals; grill for 5 to 6 minutes or until shrimp are opaque, apply DeJánees All Purpose Sauce turning once halfway through grilling. Apply DeJánees All Purpose Sauce. (If using a gas grill, preheat grill. Reduce heat to medium. Place shrimp skewers on grill rack over heat. Cover and grill as above.) If desired, serve shrimp with lemon wedges. Yields 9 appetizer servings
DeJánees
®

All Purpose Sauce Salad Platter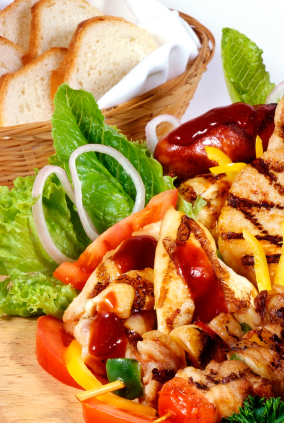 Ingredients
½ cup of DeJánees All Purpose Sauce
¼ cup of White Wine Vinegar
1 tablespoon of Vegetable Oil
1 Head of Romaine Lettuce chopped
1 cup of Curtons (your choice)
1 Red or Yellow Sweet Pepper (thinly sliced)
1 medium cucumber (thinly sliced)
1 cup of Cherry Tomatoes
1 medium Red Onion (thinly sliced)
½ cup of Parmesan Cheese
2 cups of hand-pulled Brisket or Chicken
Directions
For dressing,DeJánees All Purpose Sauce.
For salad, in a large bowl combine romaine lettuce, cherry tomatoes, red onion, sweet peppers, cucumbers, curtons, and parmesan cheese. Top with meat.
Drizzle with desired amount of sauce (store any remaining sauce tightly covered in airtight container in the refrigerator for another use. Yields 10 servings